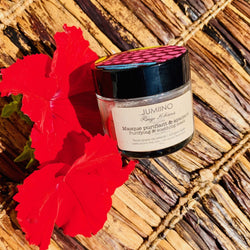 jumiino
Rouge Hibiscus Purifying & Soothing Mask
Handcrafted with a blend of Hibiscus powder, Bentonite clay, Moringa and Ginger to absorb dulling surface sebum and impurities that can clog pores. Reveals radiant new skin and brings an immediate feeling of purity, clarity, and softness to skin. Encourages a flawless, beautifully rested-looking complexion with regular use.
Which kind of skin is it good for?
Normal, Oily, Combination, Dry, Sensitive
Solutions for
Dullness
Pores (clear pores)
Dark spots and uneven skin tone
Reduces the outbreak of blemishes,
Alleviates redness and soothes
Fights allergic reactions
Nourishes skin with minerals
Calms skin infections
Speeds up healing time of wounds
Removes toxins, chemicals, impurities
Disclaimer: This product is not intended to diagnose, treat, cure, or prevent any disease. Results may vary.
Ingredients benefits
Hibiscus petals
Called the "natural botox plant" because of its firming and lifting properties, hibiscus is high in natural alpha-hydroxy acids. AHAs exfoliate, promote cell renewal, help prevent acne breakouts, boosts moisture in skin, and improves elasticity. Hibiscus is also high in water-soluble antioxidants and Vitamin C, which help fight off damage-causing free-radicals, reduce inflammation, and promotes a healthy complexion.
Bentonite
When combined with water and left to dry on the skin as a clay mask, the clay is able to bind to bacteria and toxins living on the surface of the skin and within pores to extract these from the pores. This helps to reduce the outbreak of blemishes, alleviate redness, and also to fight allergic reactions.
Moringa leaf
Packed with moisture magnet, antioxidant vitamin E and vitamin A it encourages the skin cells to renew themselves, minimizes breakouts, wrinkles and guard against dry skin as well as pollution and other environmental aggressors.
Ginger Root
Because of its toning and antioxidant properties, ginger can reduce the appearance of hypo-pigmented scars. It contains around 40 antioxidant properties that prevent free radical damage and protect against aging. It also evens skin tone and improves elasticity.
We will never use
Parabens | Phthalates | EDTA | Sodium Lauryl Sulfate (SLS) | Sodium Laureth Sulfate (SLES) | PEGs | Silicones | Formaldehyde | Phenoxyethanol | Mineral Oils | Propylène Glycol| Petroleum | Aluminium | Artificial Colours/Flavours | Animal Testing
How to Use
In a glass or ceramic bowl, mix a small amount (about 1/2 tbsp) of the mask with about 1 TSP of lukewarm water with a wooden or plastic spoon, until you reach your desired consistency. It's best to start with less liquid and add more as needed.
Gently massage into clean skin in a circular motion avoiding the eye area and let dry for 10-15 minutes. Rinse with lukewarm water. Follow with serum or balm.
For best results use 2-3 times to detoxify and decongest the pores while simultaneously soothing the skin.
Tips
For dry skin, try mixing with honey, milk or yogourt.
For combination/oily skin, try mixing with Aloe vera, honey or green tea.
If you feel a tingling sensation is totally normal it's because of the ginger extract and diminishes with time. However, if it is unbearable to you, rinse the mask.
Sold in a 50g glass jar. One jar lasts approximately 2 Months.
Storage
100% natural with no preservatives. Good for 6-9 months after opening. 
It should be stored in a cool, dry place.
Testing for Allergic Reaction
If this is your first time using this product, we recommend that you perform an allergy test before use. This can simply be done by applying a small amount to your forearm and waiting for 24h to see if any irritation or redness occur. FOR EXTERNAL USE ONLY.