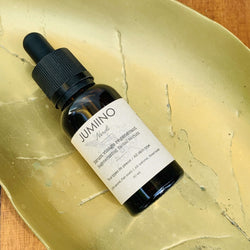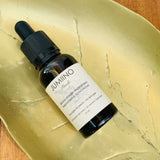 jumiino
Neroli Regenerating Facial Serum
Neroli regenerating serum is composed of all-natural active ingredients and penetrates without leaving a greasy film. A restorative formula enriched with vitamins, proteins and minerals to boost, repair, regenerate and soften the skin. Find a firm skin and a unified complexion from the first applications.
Who is it For
Suitable for all skin types
Benefits
Regulates skin oil
Fights acne
Minimizes pores appearance            
Reduces blemishes
Diminishes dark spots
Brightens complexion
Ingredients benefits:
Organic Nigella oil: stimulates tissue nutrition and improves circulatory activity, which promotes healing and regeneration of the skin.
Organic Argan oil: toning, extremely nourishing and restorative, it helps regenerate the cutaneous hydrolipidic film and limits the effects of external aggressions (cold, wind…)
Hibiscus macerate: Rich in anthocyanins, polyphenols, and vitamin C, powerful antioxidants. These active ingredients can help fight the signs of premature cutaneous aging due to oxidative stress.
Neroli essential oil: Thanks to its antibacterial, antioxidant and especially regenerating skin properties, neroli oil can help eliminate skin problems.
Tea tree essential oil: Thanks to its antiseptic, anti-microbial and anti-inflammatory properties Tea Tree can help heal wounds caused by bacteria, prevent and reduce acne scars
Lavender essential oil: stimulates tissue nutrition and improves circulatory activity, which promotes healing and regeneration of the skin.
We will never use
Parabens | Phthalates | EDTA | Sodium Lauryl Sulfate (SLS) | Sodium Laureth Sulfate (SLES) | PEGs | Silicones | Formaldehyde | Phenoxyethanol | Mineral Oils | Propylène Glycol| Petroleum | Aluminium | Artificial Colours/Flavours | Animal Testing
How to use 
Use on a freshly cleansed face and neck morning and / or evening. Heat 2-4 drops between the palms of the hands and apply with light pressure. Use alone or under moisturizer. 
If used twice per day, the average customer re-purchases the 30ml bottle after 4 months.
Disclaimer
This product is not intended to diagnose, treat, cure, or prevent any disease. Results may vary.
Storage
100% natural with no preservatives. Good for 6-9 months after opening. 
It should be stored in a cool, dry place away from sunlight. Keep the lid on tight. 
Testing for Allergic Reaction
If this is your first time using this product, we recommend that you perform an allergy test before use. This can simply be done by applying a small amount to your forearm and waiting for 24 hours to see if any irritation occurs. If you are pregnant or are breastfeeding, you may want to speak with your health care practitioner for further guidance before using products that contain essential oils. FOR EXTERNAL USE ONLY.