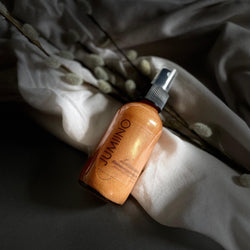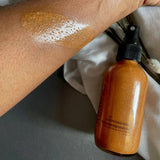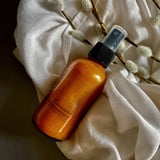 JUMIINO
Luminescence Shimmering Body Oil
Your search for a shimmering, moisturizing and multi-purpose body oil stops here! This luxurious, lightweight formula with a delicious and sweet perfume will not only give you a beautiful subtle golden glow but will also deeply nourish and hydrate your skin from head to toe without leaving behind a greasy residue. Take our word for it, you won't want to go without it!
Why you'll love it
Non-Greasy and fast absorbing formula
Leaves the skin radiant, soft, and smooth
Nourishes and soothes irritation  
Easy glide texture
Suitable for body and hair
For all skin types
Key ingredients benefits
Macadamia oil: Rich antioxidant that helps repair scars and stretch marks, reduces itchiness and rash.It contains squalene and oleic acid that assists with cell regeneration, making this oil particularly useful for dry or chapped skin as it softens and moisturizes.
Safflower oil: Acts the same way a lubricant does, forming a barrier, which prevents water from escaping. Because it helps skin retain water, it leaves the skin radiant, soft, and smooth. It also helps to enhance the texture and tone of the skin. 
Rice Bran Oil: is known for its ability to cleanse, soften, moisturize, soothe, nourish, and smooth the skin. It slows the look of aging and brightens the complexion.
Apricot Kernel: Closely resembles the natural sebum produced in human skin, it's an excellent moisturizer for dry skin because it contains linoleic acid which helps seal in moisture.
Avocado oil: Avocado oil is loaded with omega-3 fatty acids and vitamins A, D, and E and many other nutrients that can nourish, soothe and moisturize the skin.
Ingredients
Macadamia Ternifolia Seed Oil, Carthamus Tinctorius (Safflower) Seed oil, Vitis Vinifera (Grape) Seed Oil, Oryza Sativa (Rice) Bran Oil, Persea Gratissima (Avocado) Oil, Prunus Armeniaca (Apricot) Kernel Oil, Glycine Soja (Soybean) Oil, Non-GMO Tocopherol (vitamine E), Mica, Natural Fragance.
We will never use
Parabens | Phthalates | EDTA | Sodium Lauryl Sulfate (SLS) | Sodium Laureth Sulfate (SLES) | PEGs | Silicones | Formaldehyde | Phenoxyethanol | Mineral Oils | Propylène Glycol| Pretroleum | Aluminium | Artificial Colours/Flavours | Animal Testing
Shake well prior to use. 
For the body: 
Spray oil onto the application area and allow it to dry on its own or blend into skin until your desired level of intensity is achieved. Glow tip: Apply 3-4 pumps for a major glow, or 1-2 pumps for a subtle sheen!
For the face: Use as a highlighter or mix with foundation.
Non-transfer tip: Apply to clean, dry skin. For best results, skip body moisturizer before you apply Luminescence.
Storage
100% natural with no preservatives. Good for 6-9 months after opening. It should be stored in a cool, dry place. 
Testing for Allergic Reaction
If this is your first time using this product, we recommend that you perform an allergy test before use. This can simply be done by applying a small amount to your forearm and waiting for 24h to see if any irritation or redness occur. FOR EXTERNAL USE ONLY.