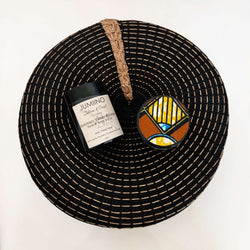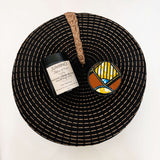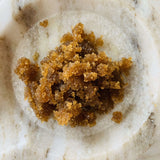 jumiino
Délices d'Orient Face & Body Scrub
Délices d'Orient is essentially made with natural and organic active ingredients to gently cleanse the skin, unclog pores, moisturize and tone the skin. It is ideal for all skin types. Believe me, your skin has never been so silky and glowy naturally.
Active Ingredients
Raw sugar: Contains glycolic acid, an alpha-hydroxy acid that is crucial for maintaining healthy skin. The natural glycolic acid in sugar not only helps condition and moisturize skin, but protects it from toxins as well.
Organic Olive oil : Rich in vitamin E and polyphenols, it helps fight against the signs of aging, protects and nourishes the skin.
 Ylang Ylang: This oil with a powerful and voluptuous perfume is used for its tonic, regulating and regenerating effects on the skin.
 Vitamin E: Natural antioxidant and an excellent anti-aging active that blocks the action of free radicals on the skin and reduces the cellular damage related to UV exposure.
We will never use:
Parabens | Phthalates | EDTA | Sodium Lauryl Sulfate (SLS) | Sodium Laureth Sulfate (SLES) | PEGs | Silicones | Formaldehyde | Phenoxyethanol | Mineral Oils | Propylène Glycol| Petroleum | Aluminium | Artificial Colours/Flavours | Animal Testing
Use
Since this scrub is made with sugar take the product with dry fingers, or even better with a spatula, then apply it on dry skin or damp skin for an even more gentle scrub . Scrub for 1 to 2 minutes. Rinse well using a damp washcloth. Use once or twice a week.
 Storage
100% natural. Good for 6-9 months after opening. 
It should be stored in a cool, dry place. 
 Testing for Allergic Reaction
If this is your first time using this product, we recommend that you perform an allergy test before use. This can simply be done by applying a small amount to your forearm and waiting for 24h to see if any irritation or redness occur. FOR EXTERNAL USE ONLY