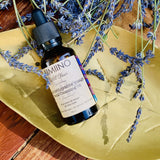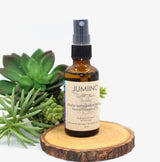 jumiino
All Clear Facial Cleansing Oil
This effective, nourishing cleansing oil blend gently dissolves impurities and make up while restoring skin's natural moisture and pH balance. Non-comedogenic Grape seed, Sunflower  and fractionated Coconut (MCT) oils cleanse the skin's surface without stripping it of essential moisture, leaving skin replenished, clarified, and refreshed. Ideal for all skin types, the gentle yet powerful cleansing actives leaves skin feeling moisturized—never tight or dry. 
Which kind of skin is it good for?
Suitable for all skin types: normal, oily, combination, dry, sensitive
Solutions for:
Dullness and uneven texture
Acne and blemishes

Disclaimer: This product is not intended to diagnose, treat, cure, or prevent any disease. Results may vary.
Ingredients benefits
Grapeseed oil: Known for its anti-inflammatory, antimicrobial and antioxidant properties. Improve your skin's moisture & softness.
Non-comedogenic fractionated coconut oil (MCT) : melts away stubborn makeup, dirt and oil, plus moisturizes without clogging pores.
Organic Hemp Seed oil: Rich moisturizing oil with vitamins and essential fatty acids that help with reducing inflammation
Lavender essential oil has a calming scent that relaxes the mind - perfect to use to cleanse before bed. It's also been shown to soothe dry, itchy skin while helping to combat wrinkles.
Geranium essential oil has a floral scent that promotes a sense of relaxation and enhances the feeling of well-being. It eliminates dead skin cells and promotes the regeneration of new skin.
We will never use
Parabens | Phthalates | EDTA | Sodium Lauryl Sulfate (SLS) | Sodium Laureth Sulfate (SLES) | PEGs | Silicones | Formaldehyde | Phenoxyethanol | Mineral Oils | Propylène Glycol| Pretroleum | Aluminium | Artificial Colours/Flavours | Animal Testing
How to use
Massage two to three pumps onto dry skin for two to three minutes using dry hands. Wipe off with a warm, damp washcloth.
If used once per day, the average customer re-purchases a bottle after 2 months.
Storage
100% natural with no preservatives. Good for 6-9 months after opening. 
It should be stored in a cool, dry place away from sunlight.
Testing for Allergic Reaction
If this is your first time using this product, we recommend that you perform an allergy test before use. This can simply be done by applying a small amount to your forearm and waiting for 24 hours to see if any irritation occurs. If you are pregnant or are breastfeeding, you may want to speak with your health care practitioner for further guidance before using products that contain essential oils. FOR EXTERNAL USE ONLY.