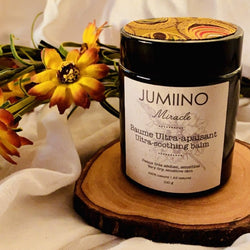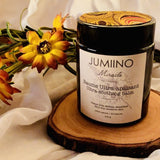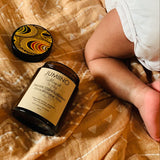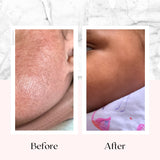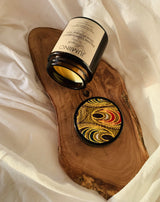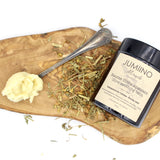 jumiino
Miracle Ultra-Soothing Balm
Miracle balm is a blend of high-quality ingredients that relieves dry, itchy and irritated skin by providing excellent moisture to the affected area. It can also help relieve pain, heal burns, reduces inflammation. Our ultra-soothing balm has a non-oily finish but is very nourishing and deeply replenishes the skin and restores the skin barrier.
Why It's Miraculous
Relieves itching | Soothes irritation | Helps regeneration and repairs tissue | Moisturizes deeply and restores the skin | Relieves burns, cuts, insect bites | Helps reduce inflammation and redness.
WHO IS IT FOR
Very Dry to Atopic Sensitive Skin
People with Eczema and Psoriasis
Safe for all ages and skin types
Disclaimer: This product is not intended to diagnose, treat, cure, or prevent any disease. Results may vary.
Ingredients benefits
Grapeseed oil: Known for its anti-inflammatory, antimicrobial and antioxidant properties. Improve your skin's moisture & softness.
Organic Pure Honey : Excellent humectant
Organic Shea butter : Excellent emollient. Moisturizes, protects, nourishes and soothes.
Organic Beeswax: Intense moisturizing. Rich in vitamin A.
Organic Hemp Seed oil: Rich moisturizing oil with vitamins and essential fatty acids that help with reducing inflammation.
We will never use
Parabens | Phthalates | EDTA | Sodium Lauryl Sulfate (SLS) | Sodium Laureth Sulfate (SLES) | PEGs | Silicones | Formaldehyde | Phenoxyethanol | Mineral Oils | Propylène Glycol| Petroleum | Aluminium | Artificial Colours/Flavours | Animal Testing
Use
Can be apply anywhere on the skin. Apply a fine layer on the affected area with a light massage onto dry or wet skin to seal hydration.
Can be used daily in the morning and evening or as needed.
For soothing and cooling you can mix it with a small quantity of water or aloe vera before applying on affected areas.
Miracle balm can also be used as a mask. Apply a small amount on your face, leave for 20 min then wash with a clean and warm
It can also be used as a lip balm to deeply moisturize and protect your lips.
Storage
100% natural with no preservatives. Good for 6-9 months after opening. 
It should be stored in a cool, dry place. In warmer areas, the product may melt but it won't alter the quality of the product. Jars do not require refrigeration but can be refrigerated for a super cooling effect.
Testing for Allergic Reaction
If this is your first time using this product, we recommend that you perform an allergy test before use. This can simply be done by applying a small amount to your forearm and waiting for 24h to see if any irritation or redness occur. FOR EXTERNAL USE ONLY.