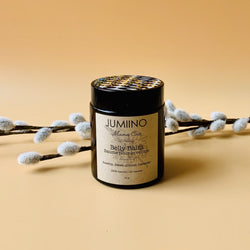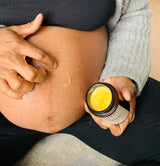 jumiino
Mama Coco Belly Balm
Mama Coco is a rich, luxurious belly balm that makes future mamas sooo happy! This easily absorbed balm made with rejuvenating and skin repairing therapeutic organic oils, effectively relieves itchiness from skin stretching and helps reduce stretch marks appearance. This balm is wonderful for regular moisturizing anytime! 
Here's why you'll love it Mama:
Nourishes and helps reduce stretch marks appearance
Relieves itchiness from skin stretching
Encourages skin's natural elasticity
Its delicate scent won't aggravate occasional morning sickness
A great way for you and your unborn baby to bond by massaging your belly
Ingredients benefits
Rosehip oil: full of antioxidants and essential fatty acids, is thought by many to be a modern day miracle worker, considered useful in treating myriad skin conditions including stretch marks, UV damage, scars, eczema, dryness, wrinkles, and more.
Baobab oil: 

is generally known for its regenerative abilities. It is excellent for softening skin and helping heal any imperfections due to its antioxidants, ample amounts of vitamin A, B, and C, along with omega 3, 6, and 9 fatty acids.

Avocado oil: helps relieve sensations of tightness, reinforces skin elasticity and leaves the skin feeling supple and comfortable.
Wheat Germ oil: is a great moisturizer. Rich in Vitamin E, it locks in moisture to prevent dryness and eases itchy, flaky skin.
Sweet Almond oil:

this

antioxidant-rich oil

full of vitamin E

and A,

is known for its

healing, antibacterial and antifungal properties

.

It

'

s highly emollient, which means it helps to balance the absorption of moisture and water loss.

Shea butter

:

is packed with vitamins A, E, and F, antioxidant vitamins that promote circulation and healthy skin cell growth. It provides deep moisturization and nourishment, leaving skin feeling soft.
Coconut Oil: really does it all. It's an antioxidant, antiseptic, anti-fungal, and antimicrobial oil. High in fatty-acids, this oil absorbs into skin easily and is well known for its extreme moisturizing benefits and helps to combat stretch marks.
Lavender essential oil: has a calming scent that relaxes the mind - stimulates tissue nutrition and improves circulatory activity, which promotes healing and regeneration of the skin.
We will never use
Parabens | Phthalates | EDTA | Sodium Lauryl Sulfate (SLS) | Sodium Laureth Sulfate (SLES) | PEGs | Silicones | Formaldehyde | Phenoxyethanol | Mineral Oils | Propylène Glycol| Pretroleum | Aluminium | Artificial Colours/Flavours | Animal Testing  
How to use
This nourishing belly balm is a great way for you and your unborn baby to bond. Massaging it into your skin on your ever expanding belly will allow you to feel your baby's every move.
We recommend using Mama Coco at the beginning of the second trimester twice a day or whenever you need to.
Massage a dab onto growing belly, breasts, hips, and thighs to minimize the appearance of stretch marks and ease itching. It's even better for moisturizing after shower or bath.
Remember, a little goes a long way… but if you need more feel free to add more goodness on your beautiful round belly — Plus, you can use it when you're not pregnant!
Storage
100% natural with no preservatives. Good for 6-9 months after opening. 
It should be stored in a cool, dry place away from sunlight.
This balm may liquefy in hot (over 80°F/25°C) environments. Liquefaction will in no way harm your balm, and simply putting it in the fridge overnight will bring it back to its intended texture. Please keep in mind that shipping to or through hot climates, particularly in the summer months, may result in a liquefied balm.
Testing for Allergic Reaction
If this is your first time using this product, we recommend that you perform an allergy test before use. This can simply be done by applying a small amount to your forearm and waiting for 24 hours to see if any irritation occurs.
Pregnant women can use this balm from the second trimester of pregnancy. 
FOR EXTERNAL USE ONLY
Disclaimer
This product is not intended to diagnose, treat, cure, or prevent any disease. Results may vary.